The capacity of clay to remember every movement of the hand, each mark made and texture pressed into it, is what drew me to ceramics.
Taking my inspiration from the natural world, mid-twentieth century design and microscope images, I make decorative and installation pieces in my garden workshop.
Using techniques adapted from printmaking, I make textured collographs which are impressed into thin sheets of clay, the final design being enhanced by pigments or, when I use translucent porcelain, revealing itself when lit from behind.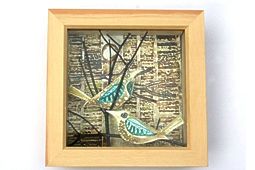 Exhibitions
Open Studios 2008
Translucent porcelain hangings, earthenware dishes and 'Bird boxes' (porcelain and twig dioramas).
A two month exhibition of wall pieces, jewellery and an installation at Trestle Arts Base.
Open studios 2007
Tiled mirrors, dishes, porcelain discs and garden sculpture. "The best Open Studio I've visited" - HVAF open studios coordinator.
All exhibitions with Karen Tinkler, printmaker
Awards
2001 Best Entry, St Albans and District
Margaret Harvey Gallery Open Exhibition
2003 University of Hertfordshire prize
Margaret Harvey Gallery Open Exhibition
Links